Find Out More About Sweet Rest Church
Elder Joseph Pridgen is the pastor of Sweet Rest Church in Pearl, MS.

He has studied at several institutions of higher learning, among them, Jackson State University, Millsaps College, Reformed Theological Seminary, and Wesley Biblical Seminary earning a degree in Biblical Studies at Belhaven College. He has significant involvement in religious and community affairs. In addition to pastoral duties, other current church activities include:
Member of the National Education and Trustee Board (COCHUSA)
National Evangelist (COCHUSA)
President of South Central Diocese Ministers Alliance (COCHUSA)
South Central Diocese Ministerial Alliance
Former Director of Ministers and Laymen Seminar
Significant community activities include:
Organizer of the Pearl Community Tent Revival
President of Ministerial Alliance, Pearl, MS
Helped to institute the inter-racial, inter-denominational Easter and Thanksgiving fellowship services in the City of Pearl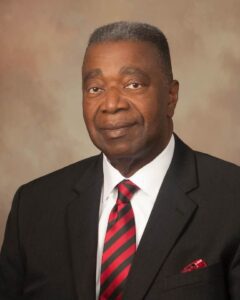 Member of Fellowship of Hope, an interdenominational alliance of churches in the Jackson area
Regional Associate for Mission America
Volunteer Chaplain for Pearl Police Department
Volunteer Counselor at the Men's Correctional Facility in Pearl
He is happily married to the former Annette King of Jackson, MS. They are blessed with three lovely daughters, one son, and one grandson.
It was in 1898, during a period of much spiritual and social unrest, that Bishop Charles Price Jones responded to a call from the Lord to serve Him "… in the beauty of Holiness." After preaching at Sweet Rest Baptist Church, he was so enthusiastically received that he was later asked to serve there as pastor. Throughout the years, the church changed its name to Sweet Rest Church of God, later to Church of God in Christ, and finally, Church of Christ (Holiness), U.S.A.
In 1905, the church burned to the ground. There was little doubt that the fire had been deliberately set. Although the identity of the culprit was never learned, it was long rumored to be an inside job. Deacon George Taylor would not allow the church to rebuild on his property, and instead, he started his own independent church right there on the site that Sweet Rest had occupied!
Despite the loss of its building, the church persevered. Elder Jones continued to minister to his local flock, preaching in the homes of various members and in a brush harbor converted into a house of worship. However, in 1906, Deacon George Taylor sold Sweet Rest the half-acre plot on which his unfinished church stood, and he and his family reunited with the Sweet Rest congregation.
With land brought from Deacon Taylor and Andrew and Mary Milner, the church had land to build a school, one of the finest in the area for blacks. Some of our current members claim Sweet Rest School as their first alma mater.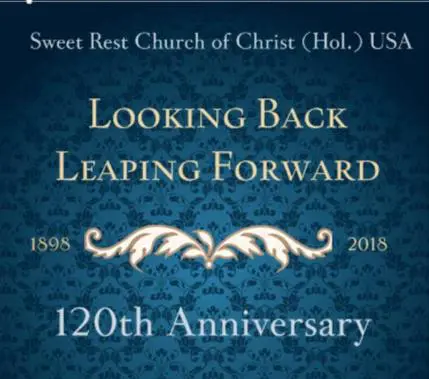 In 1907, Brother Willie Bibb and his wife, Ella, sold to Sweet Rest the existing half-acre plot of land on which South Campus now rests for the sum of $50. The white-frame structure that was built there in 1911 was to stand for nearly fifty years.
In 1913, Bishop Jones ended his tenure at Sweet Rest. However, other great men succeeded him.
First, there was Elder J. A. Jeter, a close friend of C. P. Jones (1914-1916), followed by Elder John Vance who pastored Sweet Rest from 1917 until 1921. These steadfast men of God added much to the growth and development of the church.
Elder H. R. McInnis (1922-1949), whose tenure as pastor lasted twenty-seven years, was a strict, no-nonsense man of God. Under his leadership, church membership grew and remained constant. During his pastorate, the black exodus from the South to the North began. Sweet Rest members migrated, too, and they took with them their deep religious convictions.
In 1950, Elder McInnis groomed his successor, Elder John Sanders, a new convert to the doctrine. Elder Sanders served well as pastor for 7 years.
In 1957, at the heart of the civil rights struggle, a young dynamic man of God, Elder J.T. Hill, came to pastor Sweet Rest. Elder Hill kept the church focused on God and not on the civil rights movement. Later that same year, Elder George Thomas was commissioned to completely demolish the old church and erect a new one. During its construction, church services were held at Mt. Elam M. B. Church and Sunday School in the schoolhouse.
In 1958, it was finished, complete with basement facilities and, for the first time, indoor plumbing. This was progress!
During the civil rights movement, black churches all over the South were torched—firebombed in unprecedented numbers. Sweet Rest was among them. Early one Sunday morning in 1964, a deacon came to unlock the church for Sunday school and discovered the church had been firebombed. The damage to the structure was limited to the interior of the building, which was repaired in a few short weeks.
In 1974, Bro. Cornelius Jenkins, a contractor, renovated the Church, and in 1982, it became necessary to expand again.
In 1993, shortly after the death of the beloved Elder Hill, an equally dynamic pastor, Elder Eddie Brown, Sr. was appointed Sweet Rest's seventh spiritual leader. He was a gifted gospel preacher. Services were spiritually uplifting, and membership quickly grew. It was during his tenure that the congregation realized it was fast outgrowing the building. The church prepared for yet another expansion.
In 1996, Bishop Maurice Bingham appointed Elder Joseph Pridgen as the eighth pastor of Sweet Rest Church. Pastor Pridgen's love for his flock was immediately felt, and the church responded in kind. His teachings were thought-provoking and inspiring, yet he had a simple way of expressing great truths, one of which became the church motto: "A Great Commitment to the Great Commandment and the Great Commission will build a Great Church."
In 2002, members gathered one last time in the old red-brick building to pray and to remember. It was a bittersweet service, for it was time to begin a new era at 215 Old Whitfield Rd, the North Campus.
The legacy of Bishop C. P. Jones lives today in the heart of the people who worship this same God that moved and inspired Bishop Jones. From 1898 to 2018, Sweet Rest has loved Him and praised Him "… in the beauty of Holiness" and will continue this legacy until His triumphant return.